LANE LEAVITT, President Leavittation Inc.
Lane Leavitt has 20 years of stunt experience in all facets of stunt work.
Unique, high-action stunt design is his specialty. Lane's innovative work has come
before the Academy of Motion Picture Arts and Sciences three times for Academy Award
consideration. He's also featured frequently with Leavittation in Discovery Channels top-
rated series Hollywood's Greatest Stunts.
Stuntrev Articles
Lane Interviewed at thearnoldfan.com
Read an interview with Lane Leavitt about his work with Arnold Schwarzenegger. click here
Lane Re-Elected Governor at Academy of Television Arts and Sciences.
Leavittation President Lane Leavitt has been re-elected governor of the new Stunt Peer Group in the Academy of Television Arts and Sciences.
As the Television Academy continues to be a leading force in the entertainment industry, Lane and members of the Stunt Peer Group are working to better the stunt community with the introduction of the Action Emmy. This is a major leap forward for stunt performers as they are recognized for the major contribution that stuntwork makes to production.
Lane an interim governor at the Academy of Television Arts and Sciences.
The Academy of Television Arts and Sciences have accepted a peer group of stunt professionals including Lane Leavitt in consideration of a Stunt Award at the Emmy's. Lane, Leavittation's president is now serving as one of the Academy's interim governors.
Leavittation President shatters right leg in MX accident!
Riding his YZ400, Lane high-sided at 45 m.p.h. over a big tabletop. Landing on his right leg he shattered 4 inches of both his tibia and fibula bones right below the knee. Lane had a total of about 9 hours of surgery with world famous surgeon Dr. Wiss from the Southern California Orthopedic Institute.
Lane was on crutches for 6 months and had an array of pins rods and a very fancy halo around his leg. At this point in his recovery he has almost 100% movement back and about 40% of his strength back.
"I've sold my MX bike and that's the end of my racing days" promises Lane. It's back to Trials full time. I'm getting stronger every day , and I'm riding my new 2000 model 280 GASGAS trials bike very well. My turning is still really good, but I'm not strong enough yet for the big sections. I'm riding well enough to minder for Debbie at this years World Championship in Seva Spain.
Day in the Dirt GP 1998


Geoff Aaron; 5 time US Trials Champion and Leavittation President Lane Leavitt teamed up at the Stuntmen's GP at LACR in the Stunt / Celebrity GP. Geoff and Lane finished 2nd in their class! The winners where former Supercross Champion Rick Johnson and Desert racing legend J.N. Roberts. 3rd place was former National MX Champion Broc Glover and Arnold's double Billy Lucas, who is a former Yamaha factory support rider.
Above: Lane riding his Yamaha YZ 400
Lane's Stunt Wall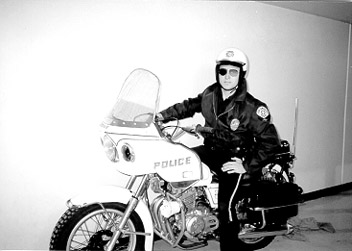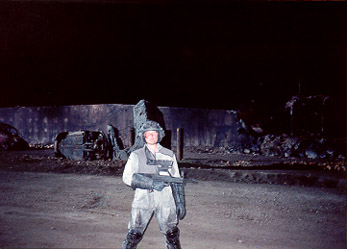 Above Left: Lane doubling the T-1000 on Terminator 2 - Judgement Day. Above Right: Lane as a "future war" soldier in T2.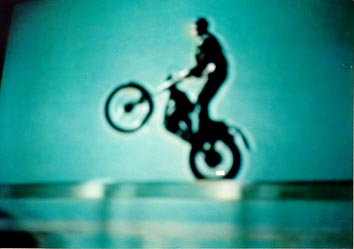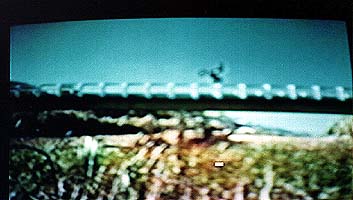 Above: Lane wheelieing down railing of a bridge on the TV series "Fall Guy."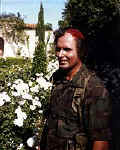 Commando. Right: Shed scene were Arnold kills Lane with a skill saw blade.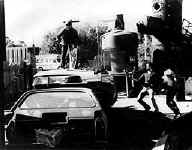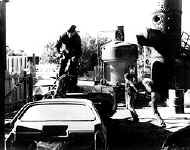 Cobra with Sylvester Stallone.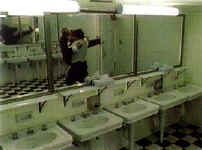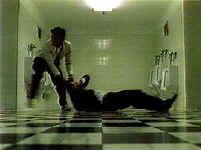 Brad Pitt and Lane in The Fight Club.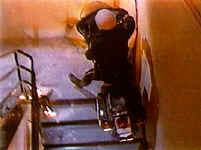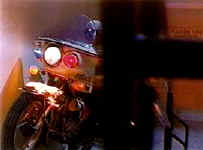 Terminator 2 - Judgement Day. Lane doubling the T-1000.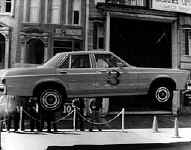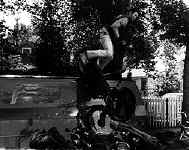 Left: The Fall Guy. Right: Knight Rider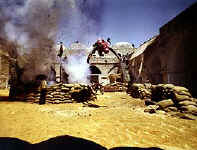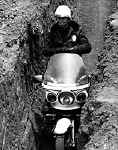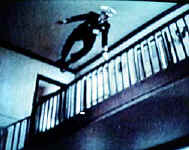 Left: Death Before Dishonor. Center: (Another) Fine Mess. Right: Scarecrow and Mrs. King TV Series.
Contact LEAVITTATION INC:
(661) 252-7551 tel leavittation@stuntrev.com (661) 250-8526 fax