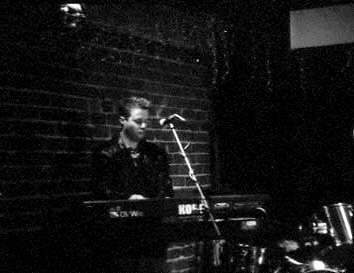 CURRENT PROJECTS
The Ludivico
Modern Rock band with Classic Rock sensibilities
Keyboards. Producing. Engineering
www.myspace.com/ludivico
Don't Call Us Tori
Showcase of original singer/songwriters.
www.dontcallustori.com
Producing / Arranging
2004
Dave Tough
"Gravity Always Wins"
(Full Length Album)
Co-Producer. String arrangements.
Move Through (Single)
Written by Toni Arthur and Dave Greene
Credits: Keyboards, orchestra arrangements.
(Also appearing, Steve Feroni and Ron Blair)
2003
Toni Arthur "For Your Consideration" (4 Song Demo)
Title: Producer, Co-writer. Credits: Piano and keyboards.
Toni Arthur - Desired (Single)
Credits: Synth/sample arrangements, drum programming, piano, and keyboards.

also Matt Heinecke "Ghost EP " (5 song EP)
Credits: Mix engineer, mastering. (see sound engineering)

SOME ORIGINAL COMPOSITIONS
Time Slips Away mp3 (3.78 Mb) 2002
When my friend Jonie Blinman and I wrote this song almost two years ago, we knew it
was very good. Time slipped away and a year and a half went by before I actually
decided to record it. A friend of mine said to me, "hey, do you know anyone who has
a song about time? Its for a movie..." As a matter of fact I did, so I went about recording
it. Thats me on piano and vocal, and thats a real Steinway. Guitars were by Cameron
Morgan. The drums were played by Ron Wikso who has played tours with Cher and
Foriener. Everything was eventually mixed into Pro Tools at SB Studios by Engineer
Dave Kelly, who has worked with Dr. Dre and Christina Agulara. The song is very
cinematic. A lot of people tell me it reminds them of Pink Floyd.
Progression mp3 (761 Kb) 2001
Electronic music piece I wrote for a student public service announcement.

Fields of Clovers mp3 (5.40 Mb) 2000
Dramatic, all solo, recorded with a skeleton of a studio in a rush so don't blame me!
This song is about a girl who's been through a really difficult situation, the people who
helped her through it, and remebering the good things - like running through fields of clovers.
Peace in the Midst of the Storm mp3 (2.13 Mb) 1998
Written as an instrumental interlude for my Worship Him album, this short piece moves
serenely with piano and strings while a tempest blows in the background, symbolizing
inner peace in the middle of a challenging circumstance.
---
PAST ALBUM PROJECTS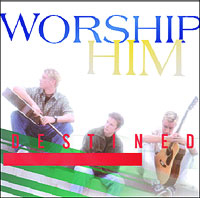 Transfiguration (1995)
Jonie Blinman, Steven Leavitt, and Michael Gerbrandt. Catchy 80's retro europop ala
Pet Shop Boys and Depeche Mode. Can you believe it? We did this stuff when we
were kids! I was only 15 when we were playing in front of 1,000 people in Newhall
Park.
Destined (1998)
The Santa Clarita Christian high school worship band decided make CD. It couldn't
be just any CD, it had to be GREAT!!! Myself, Shawn Stephens, Jon Meenk, Mindy
Meenk, Sandy Contraras, Beth Heter, and Carey Dozal were the core group of the
1998 SCCS worship team that helped lead a bit of a spiritual renaissance there at
the school. I brought in some pro players for the record such as Kenny Lee Lewis,
formerly of the Steve Miller Band. Production of the CD lagged behind schedule,
and the album was not completed before my graduation in 1999 and by that time
the group had disbanded, most of the members to head off to college. The
project was finally completed in late 2000 but never released.
If there is anyone still interested in either one of the above projects, please email me at steven@stuntrev.com.